CK is a dimer composed of two different subunits, B and M. The three isoenzymes are designated MM, MB and BB. The CK isoenzymes are resolved by electrophoresis but many hospital laboratories conduct CK isoenzyme analysis by a simple procedure involving the use of an antibody against the M subunit which inhibits M activity while the activity of the B subunit is retained.
The BB isoenzyme is present in brain and intestinal smooth muscle, but the BB isoenzyme is rarely present in serum, even in cases of nervous system or intestinal disease. The major CK isoenzyme of both skeletal muscle and myocardium is MM, and both tissues contain the MB isoenzyme. The ratio of MB/MM is, however, different for each tissue. The skeletal muscle content of MB is less than 1% of total CPK activity, whereas the myocardial content of MB is about 25-50% of total CK activity. Normal serum activity is almost entirely from the MM isoenzyme and the MB content of normal serum is usually undetectable. Degenerative muscle disease or crushing muscle injury results in elevated total serum CK activity, but the MB isoenzyme content is less than 5%. Serum MB activity greater than 5% of total is considered diagnostic for MI.
CK and/or LDH isoenzyme determinations are useful when there is question about the tissue source of elevated enzyme activity.
Correspondence Between CK and LDH Isoenzyme Findings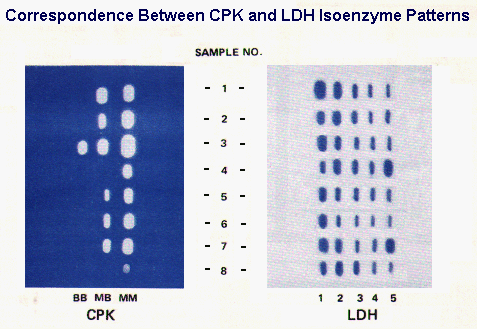 The correspondence between CK and LDH isoenzyme findings in different conditions is illustrated in the figure to the right.
Sample #3 represent results for a control specimen to assure that the technique is working properly and that all bands present are detected.
Sample #8 results are from a normal specimen.
Sample# 1 results are from an MI patient. The specimen was collected at a time when the activity of both LDH and CK were elevated Note the LDH flip and the high relative activity of the MB isoenzyme.
Sample# 2 results are from an MI patient who experienced chest pain only several hours previously. Total CK is significantly elevated with a high relative MB isoenzyme activity.
Sample# 4 results are from a patient with liver disease. Although the LDH isoenzyme pattern is indistinguishable from muscle disease or injury, the absence of at least a trace of CK-MB isoenzyme is inconsistent with the muscle CPK isoenzyme distribution as is the apparently normal total activity.
Sample# 5 results are from an MI patient; the specimen was collected about 2 days post MI so that CK has almost returned to normal activity and the LDH flip is definite.
Sample# 6 results are from an MI patient with the specimen collected about the 1st day post MI; CK activity is definitely elevated with a high relative MB isoenzyme activity and the LDH flip is evident.
Sample# 7 results are from an MI patient with complications of heart failure and passive liver congestion or the patient was involved in an accident as a consequence of the MI, and suffered a crushing muscle injury.
---