Progression of Functional Impairment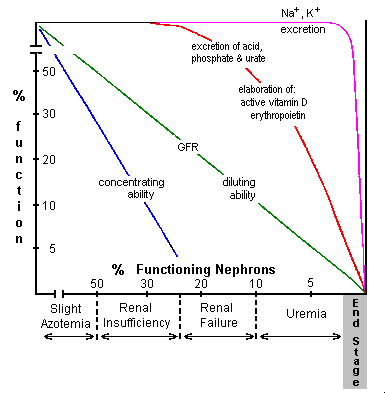 The manner in which different renal functions diminish as renal disease progresses and increasing numbers of nephrons are affected is illustrated in the figure to the right and is discussed below.

Glomerular filtration rate decreases in direct proportion to the number of nephrons rendered nonfunctional.

Concentrating ability depends upon nephron density and is completely lost when there is only 15-25% functioning nephrons remaining.

Diluting ability (maximum free water clearance) is about 7 % of GFR and decreases correspondingly with GFR.

Excretion of phosphate, urate and acid by individual nephrons can increase to rates 3-5 times that normally required so that these functions are maintained until there is only 20-30% functioning nephrons remaining.

Elaboration of erythropoietin and active vitamin D by individual nephrons can increase 3-5 fold that normally required so that anemia and calcium deficiency do not develop until there is only 20-30% functioning nephrons remaining.

Sodium and potassium excretion by individual nephrons can increase enormously beyond rates normally required so that electrolyte disturbances do not occur until there is only a few percent functioning nephrons remaining.
---
Stages of Dysfunction
As renal disease progresses and different functions become more impaired, signs and symptoms become increasingly evident. Certain poorly defined terms are loosely used to describe the stage or severity of renal disease based upon the extent of signs and symptoms and each is associated with a range of % residual nephrons remaining:

100 - 50%aa Development of azotemia (or loss of renal reserve). As GFR decreases in proportion to the loss of functioning nephrons, waste products, (e.g., urea and creatinine) which are excreted primarily by glomerular filtration, begin to accumulate. Because the normal range for these substances is rather broad, definitely increased serum concentrations are not always found until the number of functional nephrons has diminished by about 50%. The term azotemia refers to the accumulation of nitrogenous waste products and is identified by serum creatinine and/or urea concentrations above the normal range. Concentrating ability and maximum free water excretion also diminish during this stage but not to the point where symptoms develop from reduced ability to regulate fluid volume. This stage is asymptomatic and azotemia is not yet definite.

75 - 20% aaRenal insufficiency. Azotemia is definite and progresses with the continuing loss of functioning nephrons as does diminished concentrating ability and maximum free water excretion. Ability to adequately regulate fluid volume is maintained, so long as water intake is normal. During this stage, symptoms are minimal except for continually increasing azotemia and development of nocturia as concentrating ability diminishes.

30 - 10%aaRenal failure. Concentrating ability is completely lost in the stage of renal failure and a minimum urine volume of 2 L/day (or greater if the osmotic load is increased) is excreted. Maximum free water excretion continues to diminish and regulation of fluid volume becomes severely limited. Dehydration or hypervolemia and hypertension may develop depending upon fluid intake. Excretion of phosphate, urate and acid become compromised and hyperphosphatemia, hyperuricemia and acidosis develop and progress. Elaboration of active vitamin D and of erythropoietin become inadequate. Vitamin D deficiency leads to calcium deficiency. Secondary hyperparathyroidism develops, with the intention of maintaining normal circulating calcium concentrations, but renal osteodystrophy (generally mild) also occurs as a consequence. Erythropoietin deficiency leads to anemia. During this stage, mild to moderate symptoms become evident.

15 - 2%aaa Uremia. During the uremic stage, the excretory and endocrine functional impairment worsen and consequent symptoms are more severe. Toxic metabolites accumulate to a sufficient degree to cause additional symptoms including pericarditis, esophagitis, gastritis, colitis, bleeding diathesis from effects on platelets, pruritis, sallow skin coloration and neuromuscular disturbances.

< 2 - 5%aaEnd stage (or terminal uremia). This stage is life-threatening and terminal unless dialysis is conducted or transplantation is performed. The functional impairment and consequent symptoms, which began in the renal failure stage and worsen during the uremic stage, are now severe. In addition, excretion of water and electrolytes is ineffective for maintenance of homeostasis.
---