Pathophysiology of Diabetes Mellitus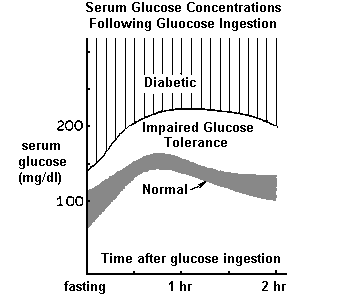 The classic signs and symptoms of diabetes mellitus (hyperglycemia, glycosuria and polyuria, polydipsia, hyperlipidemia, ketonemia and ketonuria, weight loss despite polyphagia) result from inadequate glucose utilization due to insulin lack (Type I) or resistance of tissue to the effect of insulin (Type II). The characteristic time course of serum glucose concentrations following carbohydrate intake is shown below for normal individuals and for diabetics. The immediate consequence of inadequate insulin effect is hyperglycemia from which other signs and symptoms arise. Glycosuria occurs when the plasma glucose concentration exceeds the renal tubular transport maximum (~ 160 - 180 mg/dl). The presence of significant amounts of glucose in tubule fluid results in polyuria (urine volume > 2 L/day) from osmotic diuresis.

Protein glycosylation, by a spontaneous, nonenzymatic process, is a more recently recognized consequence of hyperglycemia. Glycosylation of proteins in basement membranes is thought to be one factor responsible for the vascular pathology associated with diabetes mellitus. Blood proteins are also glycosylated and remain so during their circulating lifetimes. Determination of glycosylated hemoglobin (Hb A1c), by electrophoresis or column chromatography, provides a means to estimate the extent and duration of hyperglycemic episodes in a retrospective manner and, thus, to monitor the effectiveness of therapeutic control.

Hyperlipidemia is a consequence of increased liberation of fatty acids from adipose tissue because of impaired adipocyte glucose utilization. Triglycerides are continually turned over in adipocytes. Triglyceride synthesis requires a glyerophosphate, the only source of which, in adipocytes, is glycolysis. Lack of a glyerophosphate results in diminished triglyceride resynthesis. Free fatty acids accumulate and are liberated into the circulation at an increased rate and are taken up by the liver and other tissue.
Triglycerides, resynthesized by the liver, are returned to the circulation as prebeta lipoprotein causing Type IV hyperlipoproteinemia secondary to diabetes mellitus.
Keto-acidosis occurs primarily in cases of Type I diabetes and is a consequence of increased utilization of fatty acids as an energy source and increased production of acetylCoA via beta-oxidation. Oxidative phosphorylation is diminished with insulin lack so that acetylCoA accumulates. The excess acetylCoA condenses to acetoacetate and is partially converted to beta hydroxybutyrate and acetone; the three compounds are referred to collectively as ketone bodies. The ketone bodies accumulate in plasma and appear in the glomerular filtrate.
---
Glucose is measured precisely and accurately in most medical laboratories by highly specific enzymatic methods using hexokinase or glucose oxidase. The enzyme reagents are also impregnated in filter paper strips for use as urine "dipsticks", for patient self monitoring and as a convenient means to measure serum glucose in physicians' offices from finger sticks.
Reagents for detecting ketone bodies are also incorporated into dipsticks for urine testing or into tablets for serum testing.
The term "blood" glucose has persisted (e.g., FBS = fasting blood sugar) since glucose was often measured in whole blood in the past. Whole blood glucose values are less than serum values because the glucose content of erythrocytes is less than that of plasma. Current terminology refers to plasma glucose (e.g., FPG = fasting plasma glucose) eventhough serum is the preferred specimen for analysis. It is best to collect blood specimens in tubes containing fluoride to inhibit glycolysis since erythrocytes metabolize glucose at a rate of about 10 - 20 mg/dl per hour and serum glucose values would otherwise decrease until serum is separated from the clotted red cells.